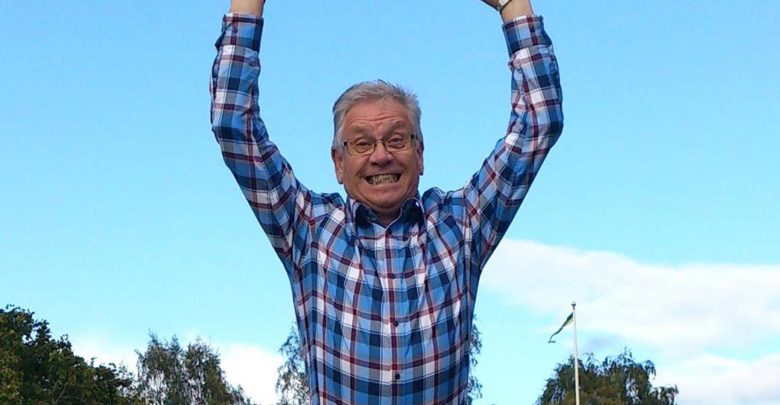 Kenneth had a terrible accident when he slipped off a high roof and slid down on his back, head first, and fell four meters straight onto the hard, frozen ground. While he was falling, he emembers how quiet it was and the first thought he had after he slammed into the ground was "Because there is snow and ice here I can't be in heaven, so I must be alive." He then had an extended hospital stay with a number of surgeries and was given morphine to help with the immense pain he was experiencing.
Kenneth says if he did not trust in God then he would not be able to manage the pain and all the difficulties.
He could walk with crutches, but for longer distances he used a wheelchair or mobility scooter; still depending on strong morphine based pain medications.
Fourteen years of pain and disability passed. I was to speak at a conference at their church; and Kenneth and his wife greeted us when we arrived to set up our book display. I asked Kenneth, who was sitting on a chair, if he could help me carry boxes. He told me that he had injured his back, but he didn't tell me how seriously. After we ate together I asked if we could pray for his back. Kenneth tells the story: "I was sitting in a chair; Anita was holding my feet and said that one of my legs was shorter than the other. I said, yes, I know, that is in the medical files. They surrounded me and started praying for God to heal me. Suddenly I felt heat around my left shin, and a second later I saw how the heels of my shoes were equal."
Kenneth jumped out of his chair and started walking and noticed he wasn't limping and his right foot was reacting faster than he was used to. He was completely healed. The following day he told everyone at the conference about the great miracle God had done in his life in just a few minutes. What was impossible for man was possible with God. Today, a few years later, he is still full of energy and he is making up for all the lost years.
Next Step: